Eau Claire Leader-Telegram, August 5th, 2000. By Traci Gerharz Klein Leader-Telegram staff
Oak Leaf quietly develops into four separate companies
Dr. Richard Crane figures he wouldn't have his own independent practice as an ear, nose and throat specialist if he hadn't joined Oak Leaf Medical Network.
Oak Leaf provided financial help and patient referrals, two key elements to begin a practice.
It's been four years since Crane came to Eau Claire from Virginia, and his practice has grown faster than he anticipated. He loves being his own boss and said he couldn't be happier in his work.
Stories like Crane's are just what a core group of independent Eau Claire doctors had in mind when they formed Oak Leaf in August 1994.
The idea was to create a "clinic without walls" to give independent doctors the benefits of being part of a larger network — allowing them to contract with insurance carriers and recruit doctors as a group — but keep their small-office atmospheres.
The plan for Oak Leaf, which is owned and operated by the doctors, worked and began to grow. The names of 66 Chippewa Valley doctors were on the network's original slim brochure six years ago. Today's brochure looks more like the size of a small newspaper, with the names of 175 doctors on it who work everywhere from Shell Lake to Black River Falls, and from Menomonie to Antigo.
Oak Leaf began with the network of doctors and has grown into a total of four companies, including the network. The companies set policies and strategies, generate funds, contract with insurance carriers and recruit new doctors and help them start practices.
Oak Leaf, which has kept somewhat of a low profile in the community, offered its most visible project in 1997 when it built HealthSouth-Oak Leaf Surgery Center on Oakwood Mall Drive, just north of the mall.
An average of 20 outpatient procedures, such as breast biopsies, hernia repairs, mole removals and tonsillectomies, are performed there each weekday, said Dr. Steven Immerman, Oak Leaf's chairman and chief executive officer.
Earlier this week, Oak Leaf announced its next step: a $1.5 million, 10,000-square-foot addition to the east end of the center, expected to be completed next spring.
Expanding options
The addition will provide space for seven additional private rooms, and a change in licensing will allow more patients to stay for a day or two after surgery, said Scott Anderson, Oak Leaf's executive director.
Currently the center is allowed to keep only two patients at a time for 23 hours after recovery because of its ambulatory surgery facility license, he said. The center has two additional rooms but could not use them for overnight stays because of the limited license, Anderson said.
That has limited doctors' ability to perform more procedures at HealthSouth-Oak Leaf, Immerman said.
"You can't always predict how long a patient will need to stay with some procedures, so doctors have to be very conservative in deciding which ones they do at HealthSouth or at the hospital," he said.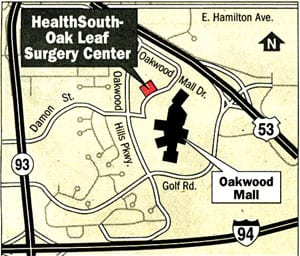 The site plan for the expanded center was approved this week by the Eau Claire Plan Commission.
Following the expected approval of the state Department of Health and Family Services for the extra rooms, the surgery center would become a surgical hospital, Anderson said.
But calling HealthSouth-Oak Leaf a hospital would be misleading; Anderson prefers the term extended-stay surgery center.
It won't have an emergency room or a maternity ward like Sacred Heart or Luther hospitals, but it simply will offer doctors the opportunity to keep a patient an extra day or two to control pain or nausea, for example, Immerman said.
The extra rooms and longer-stay option make sense to surgeons like Crane because he will be able to do more procedures at one place.
"It will help me make more efficient use of my time so I can serve more people," he said.
Currently Crane might do two surgeries at HealthSouth, then get dressed, drive across town to Sacred Heart, dress in surgical garb again and do a few more surgeries because he needs the overnight-stay option and the two rooms at HealthSouth might already be filled, he said.
More surgeries
Last year 3,800 procedures were performed at HealthSouth by 56 surgeons in these specialties: ear, nose and throat, gastroenterology, general surgery, gynecology, ophthalmology, oral surgery, orthopedics, plastic surgery, podiatry and urology.
About 1,200 more cases each year could be performed with the expansion, Anderson said.
"We are not going to be treating sicker patients; it's just that we will be able to keep people a night or two if they are having trouble with pain or something else," he said. "When your two beds are already filled, you can't do that."
The ability to perform more procedures at Oak Leaf will mean independent surgeons will do fewer cases at Sacred Heart, the hospital in Eau Claire where most of them perform surgery, Immerman said.
Certainly they will still do more complicated cases at Sacred Heart, he said.
But Immerman sees Oak Leaf's success over the years as a boon to Sacred Heart. Oak Leaf has brought to Eau Claire numerous additional independent doctors, who primarily use Sacred Heart's services.
In addition, the many doctors in outlying areas are more likely to use Sacred Heart's services now because of their membership in Oak Leaf, Immerman said.
"We're not trying to take anything away from anybody; we're just trying to support independent doctors in the area," he said.
Oak Leaf also uses the services of Luther and a few other smaller area hospitals, Anderson said.
Sacred Heart administrators acknowledge that the hospital's average daily patient census has increased partly because of Oak Leaf's growing presence in Eau Claire and surrounding communities, said Dave Duax, Sacred Heart's communications director.
Earlier this week Sacred Heart officials expressed disappointment over HealthSouth-Oak Leaf's plans. But after discussion with Oak Leaf officials about its intentions with the new licensure, Sacred Heart understands and accepts Oak Leaf's position, Duax said.
Before HealthSouth opened, Oak Leaf doctors performed much of their outpatient surgery at the Eau Claire Surgery Center, located in a building next to Sacred Heart.
It had been owned by HealthSouth and LaSante, which runs the for-profit branch of Hospital Sisters Health System. HSHS, based in Springfield, Ill., owns and operates Sacred Heart.
Sacred Heart bought Eau Claire Surgery Center in July 1997. It is still in use, but administrators are discussing future plans for the center, Duax said.
Good site
When Oak Leaf planned a few years ago to build HealthSouth-Oak Leaf, which it co-owns with Birmingham, Ala.-based HealthSouth Corp., it chose its location and affiliation with HealthSouth carefully, Immerman said.
Both decisions have turned out to be good ones, he said.
Oak Leaf liked the location near the mall and other businesses because family members can run errands or get a bite to eat while they wait for a patient's surgery to be completed. Family members are given beepers so they can be notified when surgery is done, he said.
And the affiliation with HealthSouth was chosen because it is one of the country's leaders in managing outpatient centers, Anderson said.
HealthSouth-Oak Leaf employs 45 people, including 20 registered nurses. With the expansion, it plans to add about 14 full-time workers and several part-time employees, such as a social worker, pharmacist and dietitian, Anderson said.
Patients say they appreciate the small setting of the clinic and request to have surgery there after their first experience, Immerman said.
That was the case with Sharon Tuttle of Jim Falls. Last week she had carpal tunnel surgery at the center because her first experience there — an ear surgery performed last fall by Crane — was such a good one.
She admits she was nervous to have surgery in a setting other than a hospital when she scheduled her ear surgery.
"I have congestive heart failure, and I wanted to know that they had everything they needed in case my condition became a problem during surgery," said Tuttle, 58.
Both surgeries went well, she said, adding that the care was just as good as the care she has received in intensive care units in hospitals.
The center has other advantages too, Anderson said. For example, the cost of having a procedure done at a surgery center is less expensive than a hospital, and patients find the atmosphere of the center less threatening.
"Going to a hospital is intimidating," he said. "The surgery center is a more residential setting, and people feel more comfortable."
A model for others
Immerman said he believes the growth of Eau Claire's independent practices is in large part because of Oak Leaf's influence.
"Doctors who come to us are very impressed," he said. "They want their own practice, but being alone you don't get much support. We offer that support but don't take anything away from them. We don't own them."
Immerman's partner, Brent Wogahn, also a surgeon at Evergreen Surgical in Eau Claire, was impressed when he came to Eau Claire for a job interview with Immerman.
"I haven't looked back since I came here," said Wogahn, who came to Eau Claire five years ago. "It's everything I wanted."
Oak Leaf and its resources have allowed him to be a surgeon in private practice, a business he thought was "pretty much dead and dying," Wogahn said.
In Oak Leaf's first four years, shareholders gave financial support for initial capitalization. Now Oak Leaf is fully self-funded because of the surgery center's revenue and other sources, Anderson said.
"We don't exist to return money to the physicians," he said. "The funds are used to fund the organization and its initiatives."
Oak Leaf has caught the attention of other independent doctors across the state. Anderson estimated he has received about one contact every month for the past 18 months from doctors who want to know how Oak Leaf got its start and how it works.
One of those contacts, though, went further than just a few phone calls or meetings to offer expertise, he said.
Independent doctors in Wausau contacted Oak Leaf in the spring of 1999, and now Oak Leaf co-owns that city's surgery center with HealthSouth. Wausau's independent doctors are now Oak Leaf partners, he said.
Oak Leaf doesn't anticipate making other arrangements like the one in Wausau, but Anderson said the numerous contacts he has had with other communities across the state make Oak Leaf doctors proud about what they have accomplished.
"It's a small world, and we're all fighting the same issues in health care," he said. "We just found a unique formula to make it work."
Learn more about the creation of the Oak Leaf Surgical Hospital